Commodore Advert - 1978
From Magazine
"Introducing the Pedigree PET - 8K only £499"
The PET was the result of a project by MOS Technology of Pennsylvania to develop its 6500 series of microprocessors, which had been designed as drop-in replacements for Motorola's 6800 by ex-Motorola engineers, now at MOS, which included Chuck Peddle. It was the first "complete" personal computer to be launched, predating the Apple II and the TRS-80 by several months, although you wouldn't know it from Apple's hagiographic interpretation of history.
The resulting 6501 CPU - which was pin-compatible with the 6800 - was terminated as payback for a subsequent lawsuit that Motorola took out against MOS for infringement, but its sibling, the 6502, which wasn't directly compatible, was allowed to continue. The 6502 led to the KIM-1 microcomputer board which, according to Commodore, which had bought MOS out in 1976, was the most popular micro board in the US.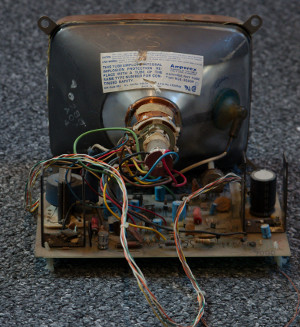 An Amperex TV tube from a PET 3016The PET was essentially a KIM-1 in a metal case with a keyboard and a "monitor", which was actually a small 9" television tube, originally pinched from a Sony TV for the prototype machine but eventually manufactured specifically by companies like Amperex.
It was launched in the UK in the spring of 1978 and this advert was probably sales-channel literature to go with it. It shows the original "chiclet" keyboard, but also has the full-keyboard 16K and 32K models advertised - the 3016 and 3032. After the larger keyboard models had been launched, allegedly demand was still strong for the smaller models that they were "re-introduced". Probably nothing at all with still having a load of unsold Chiclet models in the sales channel, then.
The name "PET" had to be rapidly changed in Europe as the Dutch Philips group already had a computer in the market with that name, so Commodore's machines were soon re-badged as "CBM", which stood for Commodore Business Machines - a name that Commodore's calculators in the UK had already been sold under. The 32K model, as advertised, cost £4,750 in 2020 terms.
When the PET was launched in the UK, Commodore's UK head of marketing Kit Spencer wrote about the company's approach to computing in April 1978's Personal Computer World saying that "we have tried to take some of the mystique out of computers in order to broaden people's understanding, appreciation and potential use.".
Spencer continued "for this reason we chose an expanded, fast, comprehensive and powerful 8K Basic which has been built in to the machine, as this is one of the easiest computer languages to learn, understand and use. Our PET computer has been designed as a fully-integrated and independently operable unit that can be used from the day it is purchased by simply plugging it in to a standard mains supply".
Meyer N. Solomon echoed this in the same issue's editorial page, saying "if I wrote an article on the PET I would praise CBM mightily for its efforts to bring computing within the reach of all of us"[1].

Commodore's new PET Computer Centre at 360 Euston Road. Kit Spencer, left, is holding the PET. © Personal Computer World August 1978Commodore was quick to establish a new division in the UK - Commodore Systems - in order to handle the PET and the earlier KIM-1. This was easy enough as Commodore already had an established presence thanks to its calculators, several of which were manufactured in the UK, with Spencer himself being a former calculator employee at Bowmar[2]. Bowmar was a calculator company that had licenced its 901B[3] to Commodore, which the latter company sold in 1972 as its first "pocket" calculator, the C110.
Spencer continued "as production and our organisation grows, we intend expanding to a local dealer network to give grassroots support - these will be carefully selected. Meanwhile, we are already setting up new offices and a 'PET Computer Centre' in central London [at 360 Euston Road] which we hope users and others interested will visit to evaluate PET, exchange ideas and generally use as a 'personal computer centre'"[4].
The "careful selection" of dealers continued later on with something of a clearout in the spring of 1980, with the axe being wielded on any dealer that wasn't able to demonstrate, fix or explain Commodore's business software. Kit Spencer was still hoping that all dealers would be approved to this standard[5].
In another move sarcastically branded as a "marketing masterpiece" by Personal Computer World, Commodore was also requiring that dealers must be selling £10,000 (£49,400 in 2020) of PETs each month before being allowed to sell the new 80-column machines, dubbed "SuperPET" by the press[6].
It's little wonder that Commodore had poor relations with its dealers - even by 1984 the company was still "universally disliked" by dealers, in much the same way as British dealers disliked Acorn - one reason being that both companies required that dealers didn't sell any other company's machines[7].
It was even said that dealing with Commodore was like dealing with Atilla the Hun.
Sources
1
"Editorial", Personal Computer World, Vol. 1 No. 2 April 1978, p.3
2
"The Home Computer Wars", Michael S. Tomczyk, 1st ed., ISBN 0-942386-78-8, p. 48
4
"Commodore's approach to computing", Kit Spencer, Personal Computer World, April 1978, p. 32-34
5
"Commodore cull", Personal Computer World, July 1980, p. 39
6
"Chip chat", Personal Computer World, August 1980, p. 163
7
"Standing up to pressure", Personal Computer World, March 1984, p. 15
text and otherwise-uncredited photos © nosher.net 2020