Nascom/Lucas Advert - June 1978
From Electronics Today
"Nascom 1 Microprocessor Z80 kit"
Nascom, the computer company spun out from electronics company Nasco and eventually acquired by car-parts maker Lucas was, for a while, the UK's biggest supplier of computer kits. By the summer of 1978 they claimed to have already shifted nearly 10,000 units, and at the end of 1979 they were even beating Sinclair's MK-14 and Acorn's System 1[1]. During 1979 the company had been finding it hard to raise money to fund expansion, so caused some excitement in the industry when it became the recipients of some new UK corporate and government finance, including a £500,000 (around £2,802,800 in 2021 terms) investment from Eagle Star subsidiary Grovewood Securities[2].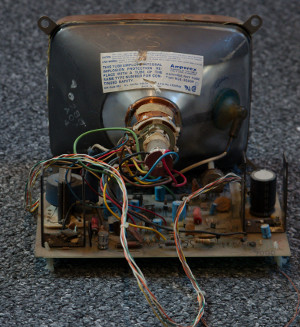 An Amperex 9" TV tube from a Commodore PET 3008The Nascom 1, first launched in 1977, was a Z80 set-up which supported up to 32K RAM. It was considered fairly unusual for a kit in that it provided both a keyboard and a video interface, at a time when most kits used LED displays and had only hexadecimal keypads or even switches as an interface. Stick the Nascom 1 on a television and it was pretty much a complete computer, albeit without the case. Although the first wave of modern personal micros had been launched the year before, kit computers were still popular as they were a lot cheaper. Besides, the built-in monitor of the £540 (£3,270) Commodore PET - the first of the new machines to launch in 1977 - was really only a glorified television as it used 9" Sanyo, Sony or Amperex TV tubes.
When released in 1978, the Nascom 1, with monochrome video output, retailed for £213 (about £1,290 in 2021 money), which was just over the £200 sweet-spot the company had been aiming for. However, Nascom were promising PAL colour output for both the Nascom 1 (and the later Nascom 2) by the begining of 1980. Kerr Borland, their marketing bod, stated the ultimate aim was to produce a kit with "most of the features that set the Apple II apart" for around £550 (£3,080 in 2021 money).
The early history of the Nascom 1 didn't seem especially smooth. There were many "touch and go" delays caused by higher-than-expected sales at a time of tight company finances, as well as a threatened lawsuit between Nascom and software company Mine of Information (MoI). MoI had planned to develop software for the Nascom, but supply delays together with an unlucky decision to pick the 8K model, "which never quite got debugged" according to Personal Computer World, meant that the company had to abandon their plans[3]. Luckily for Nascom, apart from some Sabre-rattling, the lawsuit seemed to fizzle out[4].
The Register has an excellent in-depth article on Dr. Chris Shelton, the designer of the Nascom 1.
Sources
2
"Nascom Boost", pp30-33, Personal Computer World, September 1979
3
"First the good news", Personal Computer World, March 1980, p. 33
4
"As you were", Personal Computer World, May 1980, p. 43
text and otherwise-uncredited photos © nosher.net 2021